---
Our Purpose
We provide expert solutions to the manufacturing industry in the form of software, technical consulting and services, and educational materials. We position ourselves at the forefront of manufacturing revolutions. We make it our prerogative to sustainably accelerate the market's adoption of high-tech manufacturing strategies. We deliver first-class service and innovative technologies that provide our customers with competitive advantages in an ever-evolving industry.
Our History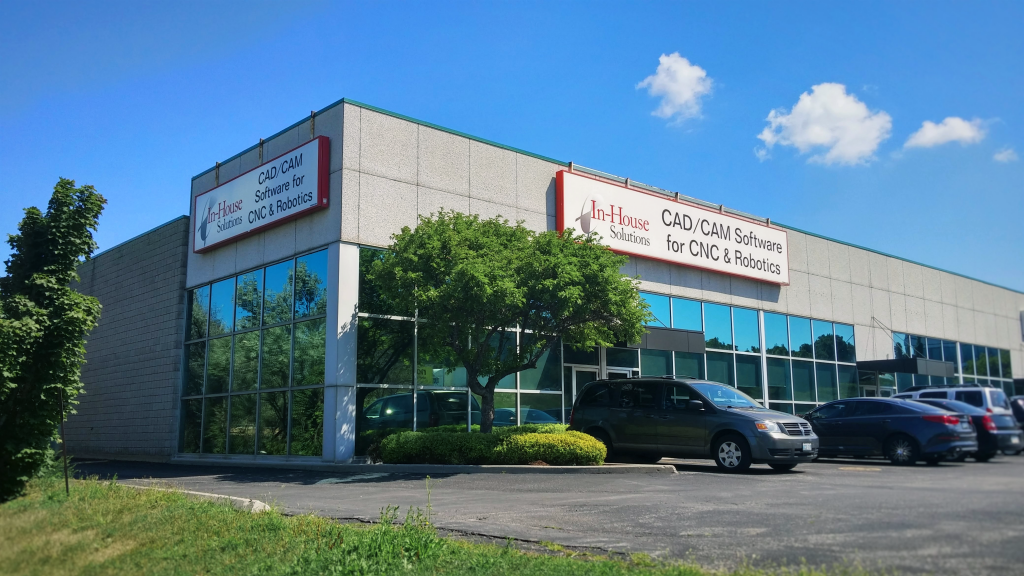 In-House Solutions was incorporated in 1988 as a one-man home-based operation. The business was based on solving customer problems by using microcomputer-based CAD/CAM technology. The company aimed to partner and collaborate with customers (machine shops and manufacturers) to solve their internal design and CNC programming production problems. At the time, this technology was brand-new and the market was nonexistent.
Today, we have an international network of customers in the CNC, Robotics, and Quality Control markets. We represent a wide variety of software solutions including Mastercam, OCTOPUZ, CIMCO, and Verisurf, while also proudly offering our training materials, custom-developed posts, consulting, service, and training. As we grow and as the industry evolves, we continue to expand our expertise and product offerings to reflect our purpose.
Our Team
At In-House Solutions, our team comes from various backgrounds and includes Applications Engineers, Software Developers, Manufacturing Engineers, and Technical Business Specialists. We have built our company by carefully selecting the people that not only bring superior technical knowledge, but also passionately subscribe to our purpose and goals. Our four core values of Teamwork, Agility, Excellence, and Integrity are embodied by every member of our team in everything we do.
We pride ourselves on being experienced technology enablers. We are a driven group of talented individuals passionate about solving complex technology problems and pursuing innovative improvements. We are proud of the network of customers and partners we've established, and value these relationships above all else. We have a deep understanding of the manufacturing industry, and we enthusiastically welcome all new challenges and changes that it provides.
Our Partners
In-House Solutions has a vast network of partners that includes CNC machine tool OEMs, tooling OEMs, robot manufacturers, robot integrators, and measurement solution providers. While we are traditionally known for our experience in the industrial sector, we are also proud of the many relationships we have cultivated with educational partners worldwide, ranging from high schools to colleges and universities. This can be seen in our involvement with Skills Canada events, in the work of our dedicated educational support staff, and in the many personal partnerships we have developed with individual instructors and teachers.
We are an active member of Communitech, a twenty-year-old organization whose mission is to help technology companies in the Waterloo region launch, grow, and succeed. We are also part of several industry associations including the Canadian Tool & Machining Association (CTMA), the Robotic Industries Association (RIA), and more.
Our Customers
In-House Solutions has more than 3000 customers that trust our products, our service, and our team. We have a dedicated group that focuses solely on ensuring that our customers are able to make the most of their investment. We embrace long-lasting, mutually beneficial partnerships with our customers. Our company's capabilities are frequently reviewed to ensure that our customers are supported at the high standard we have come to be known for.
Our Facilities
In-House Solutions can be found at six locations across Canada, with our Head Office located in Cambridge, Ontario. Our additional offices are located in Mississauga, Montreal, Surrey, Edmonton, and Nova Scotia.
Our Service
In-House Solutions prides itself on superior customer service at all levels of our organization. From first contact to final implementation, we ensure that our customers will experience professional and knowledgeable service. Many methods of service and support communications exist for our end users such as site visits, video meetings, emailing, community forums, and more.
---
Want to learn more? Contact us here.