---
Teach the Latest in Robotic Programming
As easy to teach as it is to learn, OCTOPUZ is an intelligent offline robot programming and simulation software. From creating a custom cell on the computer to running production on the shop floor, it provides all the necessary skills for students to be hired and succeed, preparing their students for the world of automation and robotics.
---
With this powerful industrial robotic software in your classroom, you can:

Why Choose OCTOPUZ?
OCTOPUZ is used in manufacturing around the world
Capable of easily programming, synchronizing, and simulating multiple robot brands – One software for them all!
Directly supports paths from your specific CAM package
Built-in PDF tutorials for enabling a faster learning curve
A large and customizable robot and parts library
An easy-to-learn interface allowing for greater functionality
Full offline robotic cell development and machine tending capabilities
Creates custom applications and scripts to govern the logic of individual components
Can simulate 3-7 axis robotic arms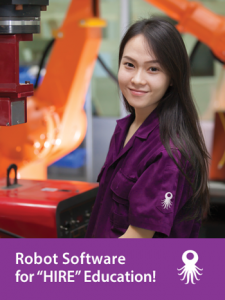 Teaching OCTOPUZ prepares your students for the real world of robotics.
A growing collaboration between robots and humans will become a larger part of the future of manufacturing within established as well as new and emerging industries.
The robotics industry has enabled companies to remain cost competitive, leading to the creation of many high-paying job opportunities around the world.
The broader adoption of robots is expected to spur greater reshoring of manufacturing jobs from overseas.
Job skills of the future will be more high-tech and will demand a stronger understanding of automation.
Increasing investments in robotics and automation are best coupled with learning and development programs that support the upskilling of students and staff members.
---
Want to learn more? Click here to book a demo and we'll show you what OCTOPUZ can do.