OCTOPUZ® is an offline robotic programming and simulation software ideal for both tech and sales teams.
Email us or call 1-800-529-5517 for a private, personalized demo.
Visit OCTOPUZ.com for more information and our latest news.
OCTOPUZ Applications
The features in OCTOPUZ give you all the tools you need for your path-sensitive robotic application, providing optimized external axis management and indicating reach limitations while avoiding singularity.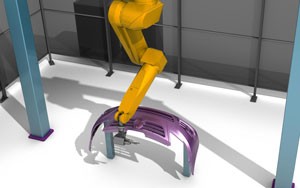 Edge Following
waterjet • trimming • deburring • laser cutting • plasma cutting
Tilt all positions forward, backward or sideways
Increase or decrease the number of path positions or spacing points
Compensate for tool width
Control cutting depths or stand offs for end of arm tooling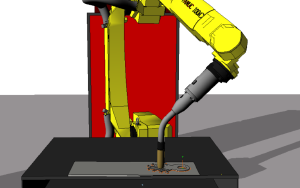 Welding
Arc Welding • MIG • TIG • Oxy-Acetylene • Laser Welding • GMAW • GTAW • Resistance Welding • and more
Program welding parameters, including external axes, tool angels and many welding commands
Program and simulate multiple passes and/or stitch welding
Generate complete welding paths in as little as two clicks
Parametric and reusable weld creation
Automatic torch flare into corners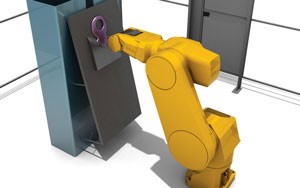 Material Removal
2D machining • 3D multi-surface machining • remote tool center point • simulated tool/head changes
Configure multiple angle settings
Set constant steps across a surface
Create remote tool center points for carrying parts to stationary tooling
Utilize high-speed toolpaths to increase accuracy and speed
Integrate roughing and finishing operations
Simulate the full process including changing tooling or entire heads
Easily generate complex drilling paths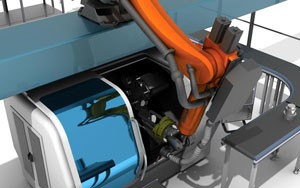 Simulation
pick and place • machine tending • PLC • shop floor layout • multiple robots • component communication
Replicate and test complex mechanical systems
Control the simulation using and actual PLC or OPC logic simulation
Optimize part-handling operations
Analyze component usage to easily find bottlenecks before the cell is ever built
Visualize the shop floor processes from start to finish
Setup I/O communication between components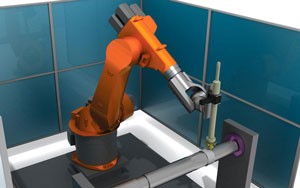 Additive
dispensing • composite lay-up • spraying • welding • painting • laser cladding
Refine spray pattern to maintain nozzle distance from part
Control positions outside the process (during transitions between faces)
Simulate and analyze material thickness and quality during simulation
---