In the CAM software industry the matter of choice is something that arises in conversations and forums time and time again. "Which is the best CAM software?" is the most common search. Terms like "best CAM software", "simple CAM software", and "affordable CAM software" are a vital part of the CNC machinists search.
To help with this global need of choice, we have outlined why you should choose Mastercam and In-House Solutions for your CNC programming needs.
1. One Environment for all your CNC Machines
With Mastercam, find all your CNC machines such as Mill, Lathe, Router, Mill-Turn, and Wire under one platform.  There is no need to have a platform for each of your CNC machines, but rather have one environment for all using Mastercam. Moreover, benefit from a common interface and workflow across modules leading to a smooth transition from one machine to another.
2. Most Widely Used CAM Software Package in Manufacturing Facilities
Mastercam is the world's most widely-used CAM software for the 23rd straight year, according to the latest analysis by CIMdata, Inc. Due to its popularity, familiarity with Mastercam is a HUGE asset in manufacturing facilities across the globe. Choosing Mastercam will help you fill jobs and learning Mastercam will help you get jobs.
3. Drastically Reduce Production Times and Manufacturing Costs
Increase efficiency through increased metal removal rates using strategies like Dynamic Motion Technology achieving 20% – 75% faster cycle times, dramatically extended tool life and less wear on your machines. The new PrimeTurning strategy allows you to turn in all directions resulting in higher productivity gains while increasing tool life.  Make your entire shop faster and more efficient.
4. eMastercam Forums
Benefit from the most active Mastercam community used to share technical knowledge, applications of CNC machines tools, manufacturing processes and technology. Get answers from machinists, engineers, and other personnel in the manufacturing industry across the globe and around the clock.
5. Family Owned Corporations
Both Mastercam and In-House Solutions have remained a family owned business from its founding, focusing on advancements in technology rather than pre-occupying itself with the cost of the stock online.
6. eMastercam Training Solutions
We offer the largest selection of Mastercam Training Materials worldwide, suitable for all levels of experience; from the new user just learning, to the experienced wanting to upgrade their skills. Offerings include print books, pdf books, eCourses, Multimedia, STEM Curriculum and Sitewide Subscriptions.
7. In-House Post Processors
At In-House Solutions there is no need to go outside of the company to develop your post. Our In-House team has experience with machines from all over the world with varying complexities.
8. Technical Support Services
In-House Solutions firmly believes in after-sale care and support. We offer several options to help you find the answers you are looking for from our support lines and field technicians to our how-to-tips, eMastercam community and our online catalogues of tutorials, we are here to help.
9. Demos
We offer on-site demos customized to the specific needs of the client, we don't simply show you a standard stock demo. Our team with many over 20 years of experience with Mastercam in industry and at In-House Solutions is available and ready to provide a demo for your specific needs.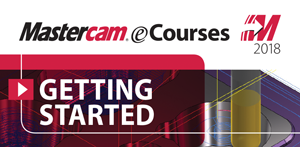 Join our eMastercam community and get access to our free Mastercam 2018 Getting Started Video.
This free eCourse introduces users to Mastercam 2018 and explains many of the foundational concepts used in our other Mastercam videos, books, and eBooks.
Interested in learning more about Mastercam? Contact us and let's set up a demo today!