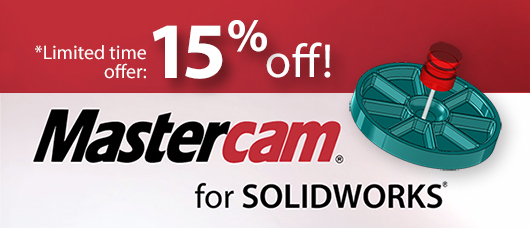 Limited time offer – 15% off Mastercam for SolidWorks*:
From now until October 31, 2014, take advantage of a special 15% off promotion. This offer is open to users purchasing new and multiple seats of Mastercam for SolidWorks 2D, 3D or Lathe. Act now before time runs out!
Mastercam for SolidWorks combines the world's leading modeling software with the world's most widely-used CAM software so you can program parts directly in SolidWorks, using toolpaths and machining strategies preferred the most by shops around the world. SolidWorks users will feel at ease with the Mastercam machining tree, which delivers quick access to any point in the machining process. Mastercam users will recognize the shop-tested parameter screens and options which they are already familiar with.
With Mastercam toolpaths integrated directly within the SolidWorks environment, the toolpaths are applied directly to the part or assembly. Any design change that Mastercam for SolidWorks encounters is handled quickly, with the affected toolpaths identified so the user can simply regenerate them. Configurations are also handled with ease, and copying toolpaths from one configuration to another is just a click away.
To learn more, please email [email protected] or call 1-800-529-5517.
Watch this video to see what's new in Mastercam for SolidWorks X8:
*The fine print:
Expiry date for Promo – October 31st 2014
New & Multiple Seats for Mastercam for SolidWorks 2D, 3D and Lathe – 15% off
This promotion cannot be combined with any other existing promotion.
Maintenance and Multi Axis will not be discounted.
Customers under "SCG Compliance" will not receive discounts
Industrial Sales Only