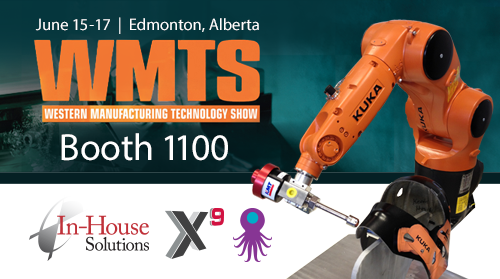 Don't miss your chance to see Mastercam X9 and OCTOPUZ robotics in action at the Western Manufacturing Technology Show (WMTS), June 15-17 at the Edmonton EXPO Centre in Edmonton, Alberta.
Western Canada's largest technology manufacturing event, WMTS, draws visitors from the oil and gas, industrial and commercial machinery, construction, mining, agriculture, wind energy and aerospace sectors. Hundreds of exhibitors and industry experts will be available to answer questions and discuss the latest in products, tools and technologies designed for the manufacturing industry.
Stop by booth 1100 where In-House Solutions will be showcasing the newly released Mastercam X9 and OCTOPUZ robotics software.
To pre-register as an In-House Solutions VIP guest and receive complimentary admission:
Visit www.wmts.ca
Click on Attend – Register Now
Enter promo code: 14095693
The In-House Solutions demo station will highlight Mastercam's CAD/CAM software tools, including the latest updates featured in the Mastercam X9 product release.
Our KUKA KR 6 R700 sixx robot will be making the journey out west, where it will be set up to feature OCTOPUZ code output. A multiaxis Mastercam toolpath will be used to waterjet cut a hockey goalie mask, incorporating a KMT Waterjet tool supplied by Ontario-based integrator I-Cubed. It will be demonstrating how OCTOPUZ combines the offline programming of robots with manufacturing process simulation, offering innovative solutions to robotics challenges.
Can't attend the Edmonton event?
In-House Solutions' products are featured at shows throughout Canada and the United States all year long. Find out if we're going to be in your area by checking our events calendar at www.inhousesolutions.com/company/calendar. To be notified by email about upcoming shows, sign up for our online newsletter at www.inhousesolutions.com/subscribe.