RZT new reseller of OCTOPUZ in China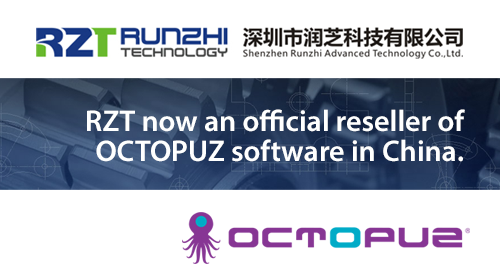 In-House Solutions is pleased to announce that Shenzhen Runzhi Advanced Technology Co, Ltd. (referred to as RZT) has signed on as an official reseller of OCTOPUZ software in China.
RZT is a professional simulation solutions supplier that specializes in providing comprehensive technical support, consulting services and training. They work with a 'clients first' mentality which allows them to adapt to changing markets with scientific and technological innovations that best serve their customers' needs.
RZT will now be able to provide OCTOPUZ, the powerful offline robotic programming and simulation software to their customers.
Michael Zhang, CEO of RZT said 'We are thrilled to be partnering with In-House Solutions as we strongly believe that OCTOPUZ will help us address the needs of the expanding robot markets in China.'
OCTOPUZ combines the offline programming of robots with manufacturing process simulation, providing mainstream, powerful, and effective solutions. It is fully customizable and can cut down on path generation time by 50% or more, allowing users to program and simulate multiple robots simultaneously across a wide range of applications.
'We are very excited to collaborate with RZT to bring OCTOPUZ to robotic clients who are searching for the right offline programming and simulation software', said Kevin Hesch, National Sales Manager at In-House Solutions. 'We know that OCTOPUZ will complement their existing product mix, and will further enhance the high-quality service that RZT delivers to their customers.'
---
To learn more about OCTOPUZ or to request a free personalized demo for your application, call 1-800-529-5517, email [email protected] or find an OCTOPUZ partner near you.
---
About RZT
Founded in 2009, Shenzhen Runzhi Advanced Technology Co, Ltd. (www.runzhitech.com) is a professional simulation solutions supplier that specializes in providing comprehensive technical support, consulting services and training on the level of applied engineering of ITI SimulationX (From Germany) and Visual Components (From Finland). Always adhering to its concept of 'scientific and technological innovation, integrity services, and clients first', RZT sells and publishes upgrade packages for software, as well as providing training courses, and engineering services. With much experience in working on critical projects with highly valued customers, RZT's key capabilities include factory simulation and robotic offline programming.
About OCTOPUZ
OCTOPUZ (www.octopuz.com) is intelligent offline robot programming and simulation software ideal for any path-sensitive application. Created by In-House Solutions, the company took a revolutionary approach by combining the offline programming of robots with a manufacturing process simulation. Today, OCTOPUZ provides a mainstream, versatile, powerful and effective solution for any robotic challenge.
About In-House Solutions
More than 27 years ago, In-House Solutions (www.inhousesolutions.com) began reselling and developing powerful software tools accessible to small- and medium-sized manufacturers. Today, the company provides CAD/CAM, DNC, PCMM and OCTOPUZ robotic programming software solutions to organizations of all sizes. The In-House Solutions team of experts, with offices in the U.S., Canada and Germany, are dedicated to selling, supporting, developing and implementing a full spectrum of software tools, particularly those specializing in NC programming and optimization, shop floor DNC communications and offline programming of industrial robots. In-House Solutions is the Canadian Mastercam distributor, and OCTOPUZ completes the company's software solutions for manufacturing.