Old World Craft Meets New World Technology using Robotics
For the past 30 years, Old World Stone, a company based in Burlington ON, provides cut sandstone, limestone, and marble. Combining the traditional craft of cut stone in the hands of European trained stonecutters and carvers, with state-of-the-art technology using computerized drawings, cutting and carving equipment, Old World Stone has become one of North America's premier suppliers of dimensional cut stone. All of their work is done on-premises, assuring both quality control and timely delivery, and resulting in one-of-a-kind expressions of affordably created stone design.
Recently, In-House Solutions checked in with Laurie Wells, Vice-President, Sales and Marketing for Old World Stone. In an interview with her, she says:
"we have to keep up with the world. Our craft is very traditional, but it is being reproduced in other parts of the world for cheaper. Speed and cost are our competitors. To be able to offer this product in North America and continue this craft dated back over a thousand years, we had to find a better way, a faster way of producing our art. Now we can offer the real thing at a better price than our competitors, instead of using cheaper materials like precast concrete."
With the fast-paced changes in technology, Old World Stone decided to take control and be at the forefront of the shift in the industry, investing in OCTOPUZ, Mastercam, and a KUKA robot (KUKA 120-R27000 Extra HA Quantic Robot with 4C Controller).
Old World Stone wanted to put their new technology to the test. Knowing exactly how many days it took for a skilled carver to produce one of their pieces, they tested the same piece using KUKA programmed with OCTOPUZ and Mastercam. The robot was programmed to carve stone and other materials using different milling head bits to sculpt the detail. After the project was complete, they discovered that it took roughly one third of the time to mill, and hand finish the pieces utilizing their new technology, as compared to being done completely by hand. The end result – utilizing their KUKA robot with OCTOPUZ and Mastercam software took days off of production for the piece.

In addition to the incredible time savings, Old World Stone also noticed other benefits with their recent shift in technology.
"A worker had been suffering from white finger (a condition that results from the vibration of an air hammer that cuts off the circulation to the fingers), carpal tunnel issues in his wrist, tendonitis in his elbow, and pain in his shoulder. He was in his mid-40's, and he was thinking that he was going to lose his career because he couldn't physically do the work. Now he finishes pieces that come off the robot in a day instead of taking 4-5 days to complete the physically demanding and destructive work. This isn't ending his career, it's extending it." – Laurie Wells
It is much easier to find apprentices or carvers than it is sculptors. Robotics and OCTOPUZ software provide the ability to invest in more skilled labour.
"I'm able to offer that learning experience to more apprentices because it is less complicated and dangerous. It builds a lot of pride and enthusiasm. They're thrilled that they get to have that kind of work in a shop. When more of them share in that experience, it's good for morale and they're more positive. The robot is not only helping build careers, but furthering careers, because they are getting those critical skills at the beginning that will help them later in their career." – Laurie Wells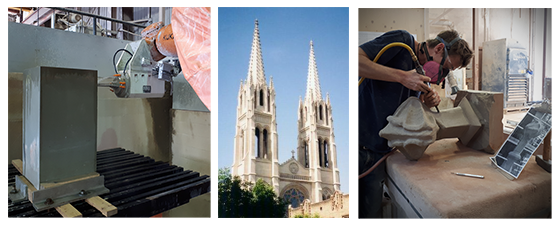 Using robotics and programming software provides the ability to be more competitive in the market
"It has helped expand our horizons. We are now able to serve a wider range of situations. I can competitively bid on projects that were previously unavailable to us due to costs, timing, and labour issues." – Laurie Wells
After checking in with Laurie, we also asked her to pass along some advice for anybody considering the same switch to robotics. To all of those companies, she says, "Dive in. It is the way of the future. You cannot be left behind."
Stay Tuned for part two of this ongoing series with Old World Stone. In-House Solutions will take a look at the changing field of employment, and how robots and robotic technologies are helping change our world.
---
About OCTOPUZ
OCTOPUZ is an intelligent, offline robotic programming and simulation software, ideal for any sized company. It offers the ability to program, simulate and generate code for multiple robots, simultaneously, with support for most robot brands in any configuration. OCTOPUZ is fully customizable to our customer's needs, and our extensive support will provide assistance before, during, and after the sale.
---
About In-House Solutions
In-House Solutions provides CNC, Robotics, and QC markets with software, technical services, and educational materials. Our software solutions include: Mastercam (CAD/CAM for CNC Machines), OCTOPUZ (Offline Programming & Simulation for Robots), CIMCO (CNC Communications) & Verisurf (Metrology/Quality Control).