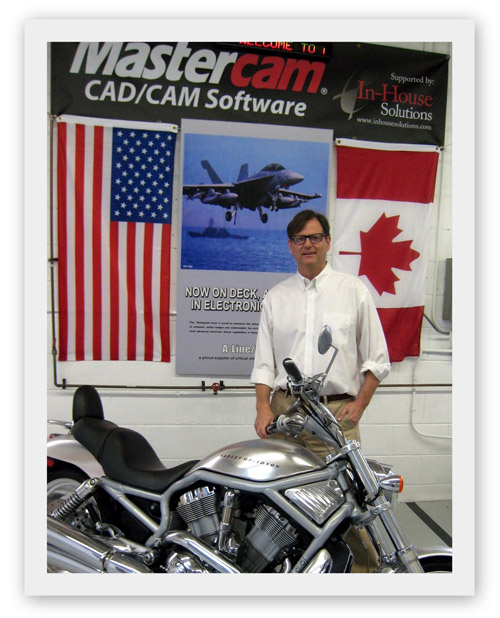 President of A-Line Precision, Robert Muru, was noticing a disheartening trend of projects not meeting their deadlines. The issue seemed to be the amount of time it was taking for their CNC programs to be written. It was at this time (in 2005) that he decided to make an investment – in his existing employees. Robert found multiple ways to encourage his staff to become more familiar with Mastercam. Here are just a few:
Community College Courses: A-Line encourages students to take these courses. In fact, when new courses are announced, the company puts notices in the employee's pay envelope to make sure they know that an educational opportunity is available.

CD Courses: About five employees paid $25 to purchase a "How to Mill Course" on CD. That was half the purchase price of the CD; A-Line paid the other half. Muru believes that when students invest a little money of their own in a training opportunity, they are more likely to spend the time required to learn as much as they can from it.

Pre-Employment Course Work: Recently, A-Line decided to hire a new employee out of high school. This required taking and passing an online Haas CNC milling course (Master Task) as a precondition of employment. A-Line paid for the course and the student demonstrated her earnest desire to become a CNC machinist by passing it.

Reseller Training: A-Line sends employees to training courses at In-House Solutions for Mastercam training and also at Sirco, their local Haas dealer, for CNC machining. These are valuable opportunities to learn about new product features that will improve productivity.

On-Site Training: A-Line's Maintenance license entitles the company to a number of days of on-site training by technical experts from In-House Solutions. The company tries to couple these sessions with new business opportunities. Recently In-House Solutions conducted a week long 5-axis Mastercam training centered on a new project A-Line was about to launch for a customer. The programmers made substantial gains in their 5-axis skills and, by the time the week was over, complex 5-axis programs had been written for producing first pieces for the new project.

Teaching Each Other and Self-Instruction: The new culture at A-Line fosters employees helping employees learn all the tips and tricks to improve their skill levels. Programmers help each other out or work as teams to handle new programming challenges.

Cross Training: A-Line places a high value on personnel flexibility, so the lathe operators are encouraged to take courses in mill, and mill operators to take lathe courses.
Source: Mastercam Xtras Blog
The goal is to create an environment without barriers to advancement. There are some great lessons to learn and strategies to try from A-Line. Robert's staff benefited from our Training Classes and Mastercam Training Solutions – so could you!
How does your shop enable its employees to better themselves?