Customer Spotlight: Strite Industries
Started by Joseph Strite, Strite Industries was established in 1964. With only five employees, Joe and his team produced small, close-tolerance components for aerospace navigation systems. Now, led by Joe's son, Richard, Strite industries has over 250 employees, and 100,000 square foot state-of-the-art facility.
Today, the company has gained a global reputation for engineering excellence in machining ultra-precision components and assemblies. The advanced manufacturing techniques are used primarily in the Aerospace Industry – both in commercial and military aviation. Additionally, their subsidiary company, Hespeler Orthodontics Ltd. manufactures one of the smallest, and most advanced orthodontic brackets available worldwide.
In-House Solutions recently met with Keith Elka, Strite's engineering supervisor, where he commented on some of the incredible changes they have seen over the years since switching to CIMCO DNC-Max. As a leader in the industry, with over 50 years of experience, they have been able to see first-hand how the evolution of technology has improved operations.
Early Processes
In its early years, before the entrance of CIMCO onto the market, Strite used practices that are likely familiar to some. Keith was able to reflect on modest beginnings, before switching to CIMCO. He explains the "walk-disk" Strite used – a DOS based gadget on a wheeled cart. This gadget would be wheeled over to the machine, where a floppy disk would be loaded into the program. From there it would be played on the machine, the program would be loaded in, and it would be exported the same way – onto the walk disk, then onto a floppy disk, run up the stairs, and loaded back onto the server. As can be imagined, or perhaps known first-hand, this process was time-consuming and frustrating. However it was this process that prompted Strite Industries to look for a DNC system that would provide the easiest and best possible solution to suit their needs.
The Switch
Since the switch, there have been quite a few improvements for Strite; the main points being that it was a huge time saver, there were no lost programs due to corrupted disks, and was much more user friendly than old practices. For a programmer, the job becomes much simpler also. Rather than having to load up programs for the team and continuously run them down, he goes into the returns folder every so often to pull the programs out, archives them, and overwrites the masters. In short, CIMCO was able to provide Strite Industries with a much more simplistic and efficient system for their operations.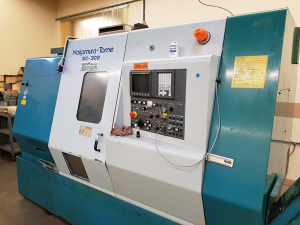 One of the functions In-House Solutions asked Keith about was the Real-Time Logging Function in CIMCO. DNC-Max provides comprehensive real-time logging of DNC systems and machine activity, and the ability to send status reports directly to CNC operators. Keith said his team is able to use this aspect of CIMCO to ensure things don't get held up. By going into the logs, they can see that something is held up, cancel the transmission, and then continue again. A function that allows the team to troubleshoot as they go, and reduce time spent on fixing major problems.
Finding the Right DNC System
To find the right DNC System for your company, there are many factors to consider. The ease of use, the level of support your company receives, or perhaps the learning curve for your employees – all of which were deciding factors for Strite Industries when they chose CIMCO DNC-Max through In-House Solutions.
When switching to CIMCO, In-House Solutions was able to create a plan for how exactly to move forward with a DNC system. Working with Strite, the plan laid out where the switches were going to be, the cables and runs, everything to ensure that the change was as simple as possible. From there, Strite was shown the entire process. For the team at Strite, it was important that the learning curve for their employees was quick and efficient. When asked how long it took his employees to learn the program, Keith explained "…every control is a little bit different, and so once we kind of figured everything out, we kind of typed up a little script for them for loading and exporting files, and once we had the script for them, they were kind of up and running in less than a day".
Moving Forward in the Industry
As the most trusted CNC communication software on the market today, CIMCO DNC-Max continues to become increasingly popular with CNC machines, robots, PLCs and test stands. It supports dripfeeding, downloading, and uploading via parallel, RS-232, RS-422 Ethernet and wireless Ethernet, and supports program transfers to be initiated directly from the CNC control. Keith describes CIMCO DNC-Max as a "flawless system" – an excellent tool that is going to save you time and money.

In-House Solutions continues to see success stories like Strite Industries, and are excited to continue working with companies to ensure the switch to a DNC system is as seamless as possible. If you think you could benefit from CIMCO technology, and would like to learn more, email us at [email protected] or read more here.