Largest global CAM community offers opportunity for shops, programmers according to CIMdata
Tolland, CT – Mastercam is the world's most widely-used CAM software for the 22nd straight year, according to the latest analysis by CIMdata, Inc. With over 224,000 installed seats worldwide, Mastercam has almost twice the installed base of the closest competitor.
"CNC Software is grateful to our constantly expanding and highly experienced global user base for their continued support. It's the feedback and input from the worldwide manufacturing community that has helped Mastercam stay at the forefront of manufacturing technology and productivity today," says CNC Software President, Meghan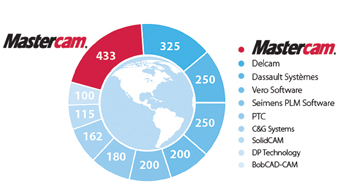 West.
West continues, "The large community of qualified Mastercam programmers presents a number of opportunities. As a manufacturer, if you're looking to expand, you can find experienced talent, and as a programmer, you can always find a shop that uses Mastercam."
CIMdata also recognized Mastercam's global support network as the largest in the CAM world. "Our Mastercam Resellers continue to provide manufacturers with expert training, on-site support, and consulting to ensure production goals and deadlines are met," West adds.
"And with almost 25% of the educational market," West continues, "CNC Software continues to demonstrate its commitment to the future of our industry, as well as the next generation of manufacturing professionals. We continue our commitment to all levels of learning, from secondary education and community programs to technical schools and universities. We have worked with our global support network to develop programs and tools that introduce students to the world of manufacturing at every age, and that teach the programming skills necessary for meaningful employment."
# # #
About Mastercam
Developed by CNC Software, Inc., Mastercam is Windows®-based CAD/CAM software for 2- through 5-axis routing, milling and turning, 2- and 4-axis wire EDM, 2D and 3D design, surface and solid modeling, and Swiss machining. Privately owned and founded in 1983, CNC Software provides CAD/CAM solutions to more than 211,000 installations in 75 countries in industries including moldmaking, prototyping, automotive, medical, aerospace, consumer products, and much more.