In 2013, Cap-Thin Molds (Mississauga, Ontario), a manufacturer of precision, multi-cavity production molds for caps and closures consolidated its manufacturing operations within a new, larger facility. By 2015, the company had driven time for a 32-cavity mold down from 18-20 weeks to 8-10 weeks. Carmen Goudey, Manager of CNC Operations, said that much of lead time improvements could be credited to the company's reliance on 4-axis high-speed machining centers and advanced CNC machining strategies created in Mastercam.
In the CNC shop there are typically 15 to 20 projects going on at any one time. Each machinist programs, sets up, and operates his own machine. Each CNC machine has a computer with its own seat of Mastercam installed on it. The company has 13 seats of Mastercam — ten Mill and three Lathe — and anticipates installing a wire EDM and two more seats of Mill soon.
Cap-Thin programmers/machinists create precision CNC programs in Mastercam based on solid models sent from the engineering department.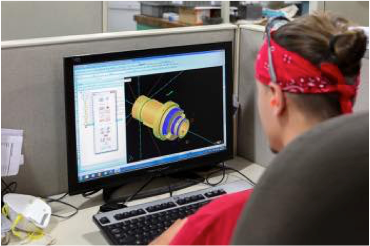 Goudey said, "We pride ourselves on the fact that our molds are bench-free. The machine tools are very accurate and our surfaces are extremely high-precision and high-finish. So when the components come off the machine, everything fits like a glove. There is no hand work involved."
"We specialize in high-speed machining. The bulk of our equipment is 4-axis high-speed machining centers. To take full advantage of them, you need specialized software. When Mastercam came out with their 3D high-speed toolpaths, it was a real game changer for us."
Cap-Thin also increasingly relies on roughing toolpaths that incorporate Mastercam's Dynamic Motion technology to minimize cutting tool wear. This not only reduces tool costs but also improves manufacturing process accuracy and consistency.
While lead times have been reduced by almost 50% in many cases, that does not mean the company will be sitting back. Cap-Thin is continually updating equipment to improve precision and break bottlenecks. Securing a steady stream of qualified workers who can understand and use these technologies effectively is a concern that is being addressed via work-study programs that Cap-Thin is involved in with two local area colleges.
Goudey said, "All these things involve a lot of work, but it is something we owe our loyal customers who are rewarding us with more business."
In Their Words
"We look forward to continuing our relationship with Mastercam. I fully expect improvements in the future. I am a Beta tester, so I have a vision of what is coming our way with the next release and beyond. It excites me that CNC Software does not sit on its laurels but continues to evolve with their technology and software. As our company grows, it's nice to see that Mastercam continues to grow too.
We have experienced an outstanding relationship with In-House Solutions, from a sales standpoint and from a customer service standpoint. If we have any issues, they are there to help us out."
– Carmen Goudey, CNC Operations Manager, Cap-Thin Mold, Mississauga, Ontario, Canada
---
About the Company
Established in 1996, Cap-Thin Molds (http://www.capthinmolds.com) services injection molding clients in the Caps, Closures, Cosmetics, Food Packaging, Medical and Thin Wall Containers sectors. They offer complete "art to part" services that include plastic product design/development, prototype and production molds. Our specialty is highly complex, multi-cavity high efficient production molds that require fully interchangeable components. Cap-Thin Molds is conveniently located beside the International Airport in Toronto, Ontario, Canada.