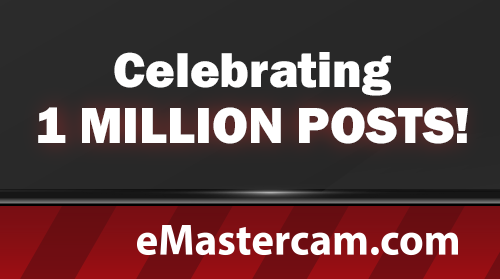 We've reached a milestone! In-House Solutions' eMastercam online forum just marked its one millionth post, proving that the active online community continues to serve as a great resource for Mastercam users worldwide.
Approximately 56,000 members, most from North America but some visiting the site from locations around the world, use the online forum regularly for all things Mastercam. Whether they're posting questions, offering helpful advice to other users or sharing solutions, the active online community has become a valuable source of information for all types of industries using Mastercam in a variety of applications.
The site offers a number of forum categories, including industrial, post processor development, educational, woodworking, and machining, tools, cutting and probing. The industrial forum is the most popular, covering topics ranging from arc creation to how to build your dream shop. The community attracts a wide range of visitors; some are just learning Mastercam and others have been programming for decades. Even long-time Mastercam pros are able to find new and interesting ideas on the forum, said Daniel Gingras, eMastercam Administrator and Customer Specialist at In-House Solutions.
"Some users work in the industrial sector, some are college or university teachers and some are professional trainers so there is a good chance each topic will be approached from many angles," he explained.
The rapid response to questions is another factor behind the forum's popularity. It isn't uncommon to see eMastercam users responding to a question about programming or machining shortly after it's been posted, Gingras said.
"Quite often, if you post a question in the forums that's specific, you'll get multiple responses within the hour."
The forum was first launched in 2000 and some of the site's most active users have been members since its inception. Each day, the forum sees hundreds of posts and, on average, each thread receives about 10 responses as the topic is discussed and solutions are offered.
"Some users, despite working full-time jobs with plenty of overtime, take time out of their day to provide help to users for no compensation whatsoever," Gingras said.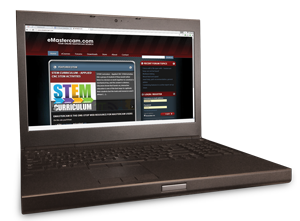 It isn't uncommon to see about 30 to 40 registered users logged in at any one time, Gingras said, along with about 500 guests or unregistered users. Because the forum's archives contain 15 years of information, the site attracts a lot of traffic from search engines looking for technical support or Mastercam tips. The site's accompanying eStore appeals to visitors looking for multimedia training materials.
Do you have a Mastercam question?
Know a great tip that you'd like to share with other users?
Discover eMastercam's online community at emastercam.com/board and join the discussion today!