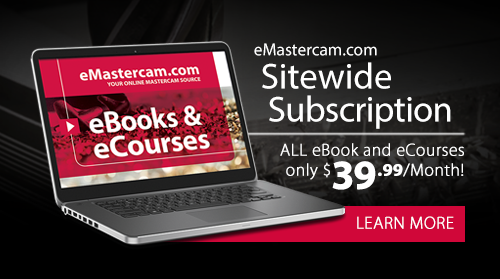 We've just released a brand-new way to enjoy your favourite eMastercam materials with our eMastercam sitewide subscription!
Starting at just $39.99 per month, an eMastercam subscription will grant you access to all of our online resources, including our full library of eBooks and eCourses. Once you are subscribed you will be able to watch all of our streaming eCourses in your browser or read any of our Mastercam eBooks using our Webviewer. In addition to our monthly payment option, we are also offering a four-month subscription for $129.99 and an annual subscription option for $359.99.
An eMastercam sitewide subscription includes:
Access to all eBooks and eCourses.
Access to streaming videos for Mastercam 2017, X9, X8, and X7.
Access to eBooks through our Webviewer for versions of Mastercam from Mastercam 2017 as far back as Mastercam X4.
Access to new material as soon as it's released.
Access to the Mastercam Home Learning Edition/Demo Software.
While we are excited to bring you this new option, we would also like to note that all prior purchases remain completely unchanged. You will still have access to all materials that you may have purchased outright in the past, and the option to buy a perpetual copy of one of our materials also remains unchanged.
If you have any questions about this new option, please reach out to us at [email protected].