Are you still manually programming your robot? Why not fully automate!
For over 30 years Focus Auto Design Inc, based in Calgary AB, has been manufacturing OEM appearance accessories. Recently, with a change in their manufacturing processes, they have successfully launched an innovative new product known as the Tough FormFit Guard, a rouged hood protector manufactured from acrylic capped ABS. This new product is thoughtfully designed to emulate the OEM ABS finishes found on many grills, scoops and fender flares resulting in a seamless, sharp and aggressive look. This product not only provides protection to the most vulnerable part of the vehicle but it also offers great value, style and easy installation – no drilling necessary!

Focus Auto Design Inc. originally purchased a used robot two years ago, as they saw the need to make the jump into automating their business. However, for just over a year, they were manually programming this robot which took time and resources that held their business back from its optimal performance. It was only within the last year that their manufacturing process changed drastically with the implementation of OCTOPUZ, an offline robotic programming and simulation software.
Recently, In-House Solutions talked with Roger Kinzel, Research and Development at Focus Auto Design, to learn more about the learning curve with the implementation of OCTOPUZ:
"With over 10 years' experience in Mastercam learning the OCTOPUZ interface was a breeze. Anyone with previous CAD/CAM experience will be able to learn exactly what they need to be able to conquer complex robot programming tasks. The on-site training provided by In-House Solutions and OCTOPUZ was a great asset. You cannot beat sitting side by side with a world expert in robot programming that is ready to answer every single question you may have."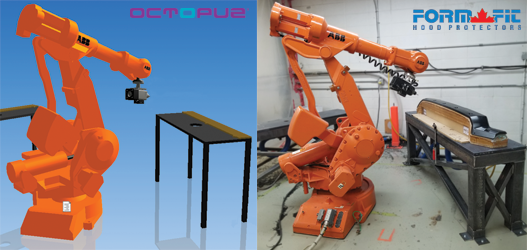 The decision to jump into a fully automated process with an ABB 4400 robot combined with OCTOPUZ soon revealed itself to be a fruitful decision. In addition to the time savings, OCTOPUZ software gave them the ability to see their complete workspace as the trimming processes are simulated, preventing mistakes and collisions while saving valuable time during the initial design concepts of new products.
We talked to our team in Alberta where Radu Biris, Senior Account Manager, shared the current economic situation in Alberta: "Cutting costs and improving productivity in Alberta is the key to success for every company in order to stay competitive and be able to diversify. Our customers have to find new innovative ways to compete and grow in this new environment. Our goal here at In-House Solutions is to make this transition from the old times into the future as easier as possible for all our customers. Robotics is one of the 'Keys ' that companies can use to open the doors to the world and be ready for tomorrow."
Roger shared with us the evident changes in the shop since the implementation of OCTOPUZ. He notes that what used to take well over a day to accurately program now takes about an hour.
"After less than a year of working with OCTOPUZ, we can have a perfect robot trimming path complete in an hour, including a nice warm cup of coffee and not a cold shop floor. Previously if we had to make a change to a pattern the robotic re-learning took half a day; Without this software we would still be working on patterns and doing hand work, wasting valuable company time and money."
This was especially a concern with Focus Auto Design, as they are located a great distance from our headquarters. They were pleased to discover that distance was not an obstacle for them to receive the world-class customer support that Mastercam provides. Roger expressed his satisfaction with the attention and support provided from both our Alberta and Ontario offices
"The support we have required has been handled with the upmost urgency.  In-House Solutions understands how important it is to companies like us to keep our machines and robots moving as much as possible.  If we have a unique operation we have not done before, the support team was able to assist us, and in most cases, provide us with an even better operation method than we had planned." 
The addition of OCTOPUZ delivered more control, faster programming, better quality and more safety to their manufacturing. Now, rather than being limited by the speed of their manual programming, they can keep up with the robots capabilities with OCTOPUZ increasing their shops capabilities. They can deliver products now much faster and with a higher level of manufacturing.
"It has more than paid for itself and we are incredibly satisfied. Not only do we save time and money with the software but we are able to pass the savings along to our customers. We are producing a better part at a lower price!" 
We are often faced with the question: Why choose OCTOPUZ for your offline robot programming needs? Roger had some great advice for those searching for alternative programs:
"Other robot software packages only work with specific brands of robots. OCTOPUZ comes with a very large selection of robots and an online catalog to find exactly what you are looking for.  We bought a new robot after 1 week of using the software to suit our application better. Looking back it would have been a better idea to purchase OCTOPUZ first! Any new robots we buy in the future will use the same license, allowing a single user to control hundreds of robots." 
To see first-hand how OCTOPUZ can help your processes, request a private, personalized demo here.
---
 About OCTOPUZ
OCTOPUZ is an intelligent, offline robotic programming and simulation software, ideal for any sized company. It offers the ability to program, simulate and generate code for multiple robots, simultaneously, with support for most robot brands in any configuration. OCTOPUZ is fully customizable to our customer's needs, and our extensive support will provide assistance before, during, and after the sale.
---
About In-House Solutions
In-House Solutions provides CNC, Robotics, and QC markets with software, technical services, and educational materials. Our software solutions include: Mastercam (CAD/CAM for CNC Machines), OCTOPUZ (Offline Programming & Simulation for Robots), CIMCO (CNC Communications) & Verisurf (Metrology/Quality Control).