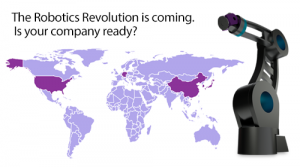 Investment in industrial robots is growing at an unparalleled rate and that demand is only going to rise over the next several years. In fact, the latest World Robotics 2014 report states that approximately two million industrial robots will be operating in factories worldwide by late 2017. Are you ready for it?
As businesses search for new ways to increase productivity and lower labor costs, it's expected that many will turn to the implementation of advanced industrial robots, if they haven't already. The Boston Consulting Group (BCG), a global management consulting firm and leading advisor on business strategy, recently conducted research showing that robots will boost productivity by up to 30 percent in many industries by 2025. At the same time, total labour costs could be reduced by at least 18 percent, particularly in countries such as South Korea, China, Japan, the United States and Germany where the deployment of industrial robots is poised to surge.
China is currently the world's largest investor in industrial robots as the country races to catch up with other nations reporting much higher robotic densities. With only 30 industrial robots per 10,000 employees in manufacturing compared to numbers that are five, 10 and 11 times higher in other countries, it's no surprise that their unit totals will double in just a few years.
Manufacturers are always looking for new ways to stay competitive. The accelerated investment in robots will have a tremendous impact on profitability, the BCG reports, as manufacturing labour costs decrease by up to 16 percent by 2025 in the world's 25 largest goods-exporting nations, compared to where those costs would be without robot integration.
Industrial robots aren't new to the factory environment. They've been used for decades, performing an average of 10 percent of manufacturing tasks. But that number is about to change. Over the next 10 years, all manufacturing industries worldwide will see nearly 25 percent of tasks carried out by robots, the BCG states. That includes smaller manufacturers who are expected to take advantage of the next generation of robots that are more affordable and easier to program.

For those in the transportation equipment, computers and electronics, electrical equipment and machinery industries, take note. These are the sectors that are expected to account for approximately 75 percent of advanced robotics installations over the next decade, and by 2025, those robots will be capable of handling 40 to 45 percent of manufacturing tasks.
The robotics revolution is coming, and it's poised to shift the global manufacturing landscape.
---
Next up we'll explore that first robot purchase. It's not as scary as you think!
OCTOPUZ is an intelligent offline robotic programming and simulation software ideal for tech and sales teams. To learn more about how OCTOPUZ can help you, contact us for a personalized demo.
---
Sources: World Robotics 2014, The Boston Consulting Group, International Federation of Robotics