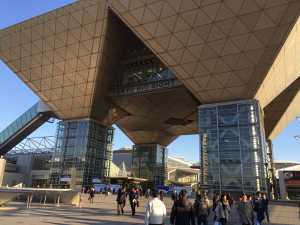 The numbers don't lie, and it's easy to see that Robots are the future when you explore the facts. Between 2010 and 2014, the total supply of industrial robots increased by 40% per year on average. Numbers continue to rise record-breaking year after record-breaking year, with the double-digit trend forecasted to continue from 2015-2018*.
This growth was reflected at the largest robot tradeshow in the world. The iRex conference and exhibition, held every two years in Japan, just celebrated its 21st anniversary with a record 446 companies and organizations in attendance, 1,882 exhibiting booths and 121,422 visitors. Over 5,000 of those visitors had travelled from overseas, making the exciting trip to see the future of robots in one place.
With the ongoing trend toward robotic automation, the demand for quality offline robot programming and simulation software grows. JBM met iRex visitors at the doors of East Hall 1, Tokyo International Exhibition Center, with the intelligent offline programming (OLP) software solution – OCTOPUZ.
"OCTOPUZ allows you to program and simulate multiple robots, of multiple robot brands in any configuration – at the same time in the same cell." Said Kunihiro Mike Kihara, General Manager/International Business Development at JBM Corporation U.S. Office. "It's the OLP chosen by our robotic customers and the response at iRex has been significant."
The benefits are obvious. With offline programming and simulation, you can visualize your cell in full 3D, testing the process to increase accuracy, quality and safety. Cells are designed, lines streamlined and mistakes caught long before the cell is even built, making the transition from concept to reality a smooth one. If you're waiting for a new robot to be delivered, you can still move forward with programming and simulating your parts decreasing downtime significantly.
"People are surprised to learn that you do not need to be a specialist to use OCTOPUZ." Said Mr. Kihara. "From sales teams or integrators simulating an idea for a customer, to the person running the robots on the floor, the program is easy to learn. If you can program a CNC machine, you can program a robot using OCTOPUZ."
For iRex 2015, JBM worked with multiple integrators and had four working robot cells all "Armed with OCTOPUZ". A FANUC M-20iA demonstrated machine tending with external operations using a dual gripper. The Nachi cell featured an MZ07 deburring. A 7-axis FD-B4S and a 6-axis FD-B4 OTC Daihen robot were welding together, and the final cell displayed a KUKA 3D Milling an octopus. Videos of each cell can be found on the OCTOPUZrobotics YouTube channel.
"JBM is an OCTOPUZ reseller in Japan and the world's top Mastercam dealer. They are the second leading OCTOPUZ reseller and we value our relationship with them." said Edward House, President and CEO of In-House Solutions. "Visiting iRex from North America was an exhilarating experience; Japan is the birthplace of many giants in industry and you could see the iRex theme "RT – Making a Future with Robot" brought to life through them. With the projected growth rate of the next few years, iRex 2017 will be an event worth travelling the world to attend."
---
* http://www.ifr.org/industrial-robots/statistics
 About JBM
Founded in 1970, JBM Corporation is a CAM Solution Company that imports, develops and provides system and software targeting their 4 core business domains: CAD/CAM, Robotics, 3D Printer and CAI for design and manufacturing processes across a range of industries. The world's largest Mastercam dealer, JBM optimized Mastercam to meet the needs of Japan's machining industry and now offers a wide range of products to their customers designed to enhance manufacturing productivity. Their services also include full post-installation support and custom applications development.
About OCTOPUZ
OCTOPUZ is the intelligent offline robot programming and simulation software ideal for any path-sensitive application. Created by In-House Solutions, the company took a revolutionary approach by combining the offline programming of robots with a manufacturing process simulation. Today, OCTOPUZ provides a mainstream, versatile, powerful and effective solution for any robotic challenge.