Jackson Diebel, a 4th year Mechanical Engineering and Management student at McMaster University, is the current team lead of MAC Formula Electric. MAC Formula Electric is a student-run, extracurricular organization that represents McMaster University at Formula Student. The team is designing and building a single-seat, open-wheeled race car to compete in the Formula Student and Formula SAE international engineering competitions. Their goal is to compete on the world stage, so they are designing their car specifically to European Rules, with their ultimate goal to put a North American team in the top 10 of the world rankings (currently there are only European teams).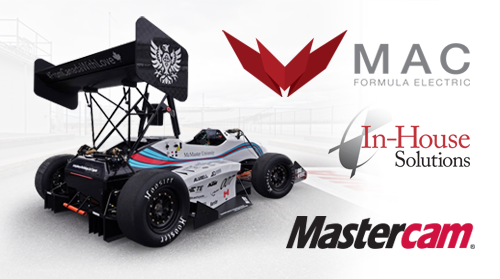 Previous generations designed and built their cars with combustion engines, which later evolved to hybrid powertrains. MAC Formula Electric is building the first fully electric powertrain car, leveraging the development done in previous generations, like the chassis, and combining it with new designs. This mix provides them with the best chance to have a high-performing, yet reliable car from the start line.
MAC Formula Electric relies on sponsors who donate funds, in-kind donations or discounts on products. They currently have a crowdfunding campaign live on Indigogo, where GM Canada has partnered with them to provide prizes and will match every dollar raised up to their goal of $10,000.
Dedicated to inspiring the next generation of leaders in manufacturing, engineering and robotics, Jackson was one of many co-op students In-House Solutions has provided opportunities to over the years. In-House is excited to be involved in this project with Jackson and has provided the team with a license of Mastercam for the past two years.
"My co-op at In-House Solutions was a fantastic experience. Not only did it open my eyes to the manufacturing industry: providing me with valuable skills I have been able to apply to projects like MAC Formula Electric, but it also introduced me to what a business can be. My time at In-House Solutions gave me insight into what it takes to develop an effective team of people to accomplish a common goal." Jackson said.
You can help MAC Formula Electric turn their designs into reality!
BACK IT – MAC Formula Electric Inaugural Car
Ends December 11th, 2016
In-House Solutions is proud of how far MAC Formula Electric has come, and wish Jackson and the team continued success on their journey!