Last month we brought you our new CAD Import Training Tutorial for Mill Level 1. This month we bring you the new Mastercam X7 CAD Import & Mill Level 3 Toolpaths Training Tutorial.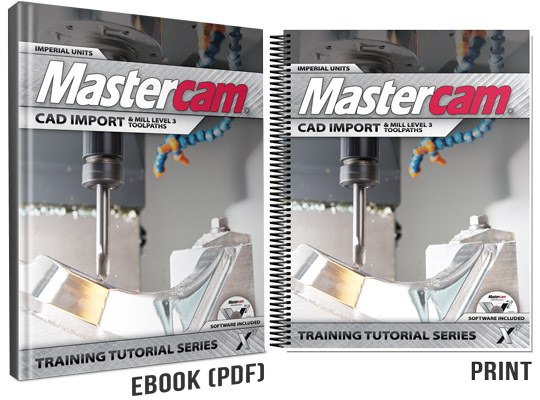 The CAD Import & Mill Level 3 Toolpaths Training Tutorial
The CAD Import & Mill Level 3 Toolpaths Training Tutorial consists of 7 projects and 7 accompanying practice exercises. It is intended for intermediate to experienced Mastercam users who are primarily importing 3D geometry from another CAD software package. It is strongly recommended to have a good understanding of 2D machining (provided in the CAD Import & Mill Level 1 Toolpaths Training Tutorial, for example) before beginning this book.
Each project explains how to prepare the imported geometry using levels, how to check for problems in the geometry and how to move the geometry to set the work zero.
All of the parts are designed with machinability in mind and include suggested fixtures and tool setups. Clearly laid out objectives and step previews make it easier than ever to follow along.
This book covers Surface Finish and Roughing toolpaths with an emphasis put on the advanced Surface High Speed toolpaths, including the new High Speed toolpaths such as OptiRest, OptiArea and OptiCore. Other topics include STL Stock creation and its use in solid model verification and how to create and manage Stock models in the Toolpath Manager. Machine Simulation is used to check for collisions between the part, the tool and any of the machine's components.
This book includes the Mastercam X7 Home Learning Edition/Demo Software.
Introductory Pricing
For 2 weeks only, this book will be on sale for $45.00 in print form (Buy Now) and $40 in eBook (PDF) format (Buy Now). Introductory pricing ends Friday, February 21st after which they will be $55.00 for print and $50.00 for the eBook.
Available Now!
Regular Price Print: $55.00
Regular Price eBook: $50.00
ISBN: 978-1-77146-043-9
Our Mastercam Training Solutions can be ordered through your local Mastercam reseller, the eMastercam.com Store or by calling 1.800.529.5517. We also accept fax orders at 519.658.1335.