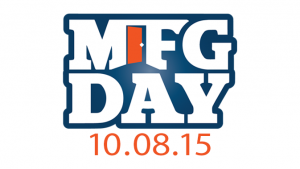 Do students know what the manufacturing industry is really like? When they think of manufacturing, do positive aspects such as high-tech software, innovative design and creativity spring to their minds?
Manufacturing Day℠ (soon to be known as Manufacturing Month) is a celebration of modern manufacturing meant to inspire the next generation of manufacturers. It was created to take the guesswork out of industry, and eliminates misconceptions by providing students an accurate glimpse into the inner workings of modern manufacturing. With 2,227+ MFG DAY events across North America in 2015, many students will be inspired to explore a future in manufacturing and technology.

In-House Soluti

ons, Edge Factor, and Sandvik have collaborated to host a MFG Day 2015 event at the Sandvik Center in Mississauga on October 8.


The tours, workshops, information sessions and live demos will give students a firsthand look at:
A 3D printing station from In-House Solutions will have a castle "hot on the press".
Edge Factor telling the story of Manufacturing through captivating videos that excite all audiences.
A robot arm milling a Blue Jays logo using an offline robotic programming and simulation software called OCTOPUZ.
A guitar being scanned and measured with a Romer arm and Verisurf metrology software.
Mining, production and engineering with Sandvik.
In-House Solutions is also supporting Manufacturing Day by donating Mastercam to 100 schools across Canada in 2015, with an additional 100 donations planned in 2016. Mastercam is the world's most widely-used CAM software for the 21st straight year and has almost twice the installed seats than the closest competitor. Because of this, students will have greater opportunities once they graduate and more qualified Mastercam programmers will be available for the workforce.
In-House Solutions – We don't just educate, we inspire!
For more information contact In-House Solutions at 1-800-529-5517 or email us at [email protected].
---
Join the Conversation:
Follow us on Twitter, Facebook or LinkedIn and Subscribe for news & exclusive offers.