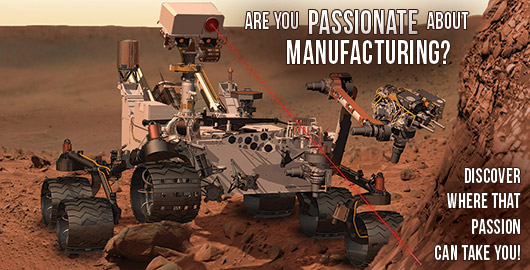 Are you passionate about manufacturing?
Want to showcase your skills and creativity before a team of esteemed experts?
Are you interested in winning some amazing prizes in the process?
If you answered "yes" to all—or even most of—the above, then consider competing in the 2014 Mastercam Innovator of the Future (IOF) competition.
This year, students are presented with the challenge of modifying and machining an optic mirror design. The challenge can be approached in one of two ways, each catering to a different set of skills.
[twocol_one]
Engineering Efficiency:
Modify the supplied part file to lighten the piece without sacrificing structural integrity.
[/twocol_one] [twocol_one_last]
Engineering Creativity:
Use the back of the part to display your creative machining and design skills.[/twocol_one_last]
Once completed, your submission will be judged by a panel of experts from Optimax. Optimax is an industry-leader in the manufacturing of optical components found in a number of cutting-edge technologies. They are perhaps best known for their work on the optics used by NASA's Curiosity Rover to deliver crystal-clear images of the Martian surface. Manufacturing optics that are both highly precise and able to withstand the harsh climate of Mars is a task that requires engineering efficiency and engineering creativity in equal measure. As such, Optimax will be judging both categories equally.
The prizes for the 2014 IOF competition are out of this world! Literally. The grand-prize winner will receive a trip for two to Florida to visit the Kennedy Space Center with CNC Software and Optimax, as well as a $1,000 check, and a seat of Mastercam Mill Level 1. Every contestant will receive an exclusive Mastercam IOF shirt.
If you would like to compete, please submit your entry before May 15, 2014. Good luck!
For more information visit www.mastercam.com/iof