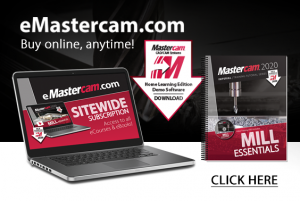 The Book Development Team at In-House Solutions has been authoring and publishing industry-leading Mastercam Training Solutions since 1999. Our Educational Division brings years of practical experience, helping to ensure that you're getting what you need today to prepare students of all ages for tomorrow.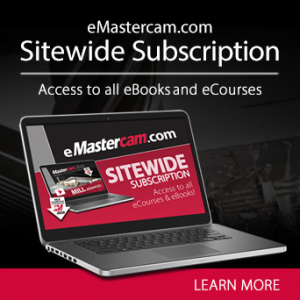 Sitewide Subscription
An eMastercam subscription will grant you access to ALL of our online resources, including our full library of eBooks and eCourses. Once you are subscribed you will be able to watch all of our streaming eCourses in your browser or read any of our Mastercam eBooks using our Webviewer. One month, four month and 12 month subscriptions available.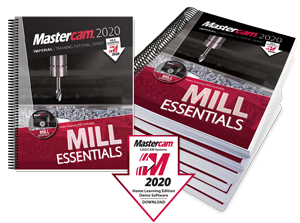 Books
We offer four primary book series that cater to different styles of learning. Each print title includes demo software we refer to as the Mastercam Home Learning Edition DVD (HLE).
Our flagship line, the Training Tutorial Series, is available in either imperial or metric units. Select titles within this series also include a Video Training DVD.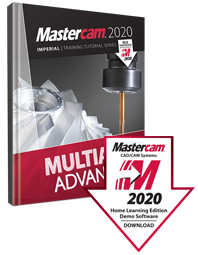 eBooks
Every print title we offer is also available as an eBook – which can be read in your browser or downloaded as a protected pdf. The main benefits include instant download, search & bookmark functionality, as well as colour screenshots. Each eBook title includes a Mastercam demo software download.
For schools wanting to go digital, we offer eBook site licenses which grants access to an eBook from any workstation on campus for unlimited users, at an affordable price.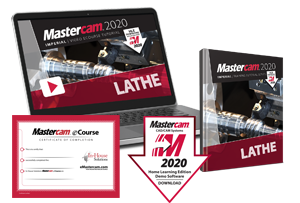 Mastercam eCourses
Expand your Mastercam knowledge, anytime and at your own pace, with a new selection of step-by-step online video eCourses from In-House Solutions.
Mastercam eCourses provide both novice and seasoned Mastercam users with the tools and information they need to excel in four different subjects; Mill Essentials, Mill Advanced, Lathe, Multiaxis Essentials.
Each eCourse includes online tutorials and quizzes designed to expand and test knowledge along the way, a corresponding eBook, a download of the Mastercam Home Learning Edition/demo software and a certificate of completion at the end of each eCourse.
Where to buy
Online

All of our titles are available for purchase through the store at www.emastercam.com.
Call Us

Toll Free: 1.800.529.5517
Outside NA: +1.519.658.1471
Fax: 519.658.1335
Local Reseller

Our Mastercam Training Solutions are also sold through the Mastercam Reseller Network.