Not on Mastercam Maintenance?
See what you're missing!
Mastercam Maintenance is a subscription service plan providing software upgrades as soon as they become available, prioritized technical support and maintenance-only perks such as discounted training, hourly service work and much more.
MAJOR RELEASES:
Access to the most recent Mastercam software updates; including enhancements, newest software tools, and features released during the maintenance contract period.
DISCOUNTED:
Regular priced training classes
Hourly service rates
FREE:
Update installation package available upon request
Post processor update per SIM, per major release
Priority telephone or online technical support
NEW!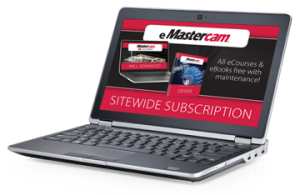 Consulting training session – Bring your part files to us to receive assistance in areas that have been giving you trouble. Learn tips and tricks that the standard certification classes do not have time to review, and get a preview of the newest version of Mastercam.
eMastercam.com sitewide subscription –  This means you'll have access to all** eBooks and all eCourses, for free! Ask your customer success representative for more information.
Mastercam Maintenance program policies:
Maintenance can only be added to Mastercam products at current version. New releases, patches, service packs and all enhancements released during the maintenance period are available to customers on Mastercam Maintenance only. Maintenance period runs for 12 months, ending one year from the end of the month in which the order was processed.
Maintenance customers receive one free post update per SIM per release while on maintenance. Non Maintenance customers will be provided at an hourly service rate.
To ensure that you receive your Maintenance notifications in the future, subscribe to receive the In-House Solutions eNewsletter. You will also be alerted to special promos, events and updates. www.inhousesolutions.com/subscribe
Mastercam Maintenance is not transferable.
* The first year of Maintenance is required with the initial purchase.
** Instructor guides not included.