The In-House Solutions Book Development Team is kicking off the New Year with a new title: the Mastercam X7 CAD Import & Mill Level 1 Toolpaths Training Tutorial!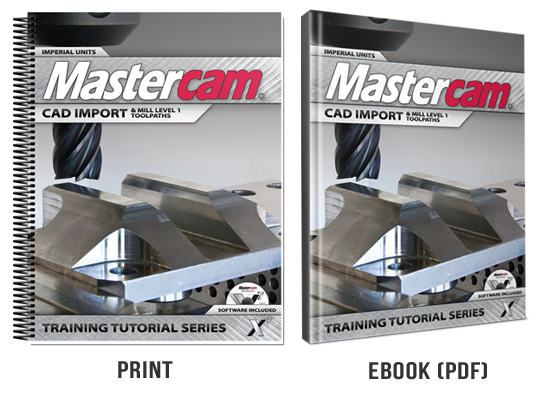 Introduction
We have received a number of requests for a title like this and there are a number of scenarios where it would be the logical choice – even over our popular Mastercam X7 Mill Level 1 Training Tutorial. If you are a programmer in a large shop for example, your job may simply consist of opening parts sent from a variety of sources and programming them quickly and efficiently; perhaps never needing to touch the geometry.
The CAD Import & Mill Level 1 Toolpaths Training Tutorial
The CAD Import & Mill Level 1 Toolpaths Training Tutorial is intended for anyone looking to understand the ins and outs of Mastercam Mill Level 1 toolpaths, while learning the best practices for importing geometry from various CAD software packages.
Throughout this book's 10 tutorials and 10 practice exercises, you will learn how to import AutoCAD, SolidWorks and Parasolid files and create the 2D toolpaths for them in Mastercam.
Each tutorial walks you through preparing the imported geometry using levels, shows you how to check for problems in the geometry and how to move the geometry to set the work zero. We also cover tool settings, stock setup, drilling, tapping, contouring, pocketing, circle milling, slot milling, 2D High Speed Toolpaths (such as Dynamic Core Mill, Area Mill, Rest Mill and Contour Mill) and using the WCS in multiple fixture applications.
This book includes the Mastercam X7 Home Learning Edition/Demo Software.
Introductory Pricing
For 2 weeks only, this book will be on sale for $55.00 in print form (Buy Now) and $50 in eBook (PDF) format (Buy Now). Introductory pricing ends Friday, January 17th after which they will be $65.00 for print and $60.00 for the eBook.
Available Now!
Regular Price Print: $65.00
Regular Price eBook: $60.00
ISBN: 978-1-77146-038-5
Our Mastercam Training Solutions can be ordered through your local Mastercam reseller, the eMastercam.com Store or by calling 1-800-529-5517. We also accept fax orders at 519-658-1335.