The Book Development Team's latest addition to our library of Mastercam Training Solutions is the Mastercam X7 Mill-Turn Training Tutorial!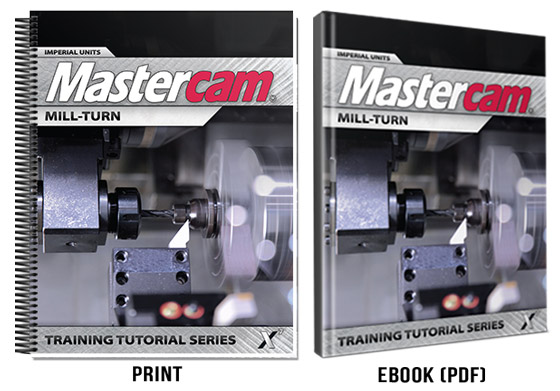 The Software
Mastercam Mill-Turn software (new for X7) simplifies machining on today's high-powered, multi-stream machining centers. It automates much of the complexity, letting you program parts faster and with less effort.
The Mill-Turn Training Tutorial
The Mastercam X7 Mill-Turn Training Tutorial focuses on the toolpath functionality found in Mastercam's new Mill-Turn product. It covers turning and milling toolpaths including multiaxis and specific toolpaths such as pinch turning. Parts are machined in both spindles; stock transfer and part handling routines are also outlined. Specific functions and options such as job setup, axis combination and tool setup, automatic tool plane creation, synchronization and tokens are also covered.
Introductory Pricing
For 2 weeks only, this book will be for sale at the introductory price of $65.00 in print form (Buy Now) and $60 in eBook (PDF) format (Buy Now). Introductory pricing ends Friday, December 13th after which they will be $75.00 for print and $70.00 for the eBook.
Available Now!
Regular Price Print: $75.00
Regular Price eBook: $70.00
ISBN 978-1-77146-040-8
Our Mastercam Training Solutions can be ordered through your local Mastercam reseller, the eMastercam.com Store or by calling 1-800-529-5517. We also accept fax orders at 519-658-1335.