Highlights of Mastercam X8 powerful new tools.
For more information on what's new in X8:
Email us

, call 1-800-529-5517, or better yet, attend an X8 Rollout!  Find and register for your local event by clicking here now. The last Rollout is October 19, 2014
---
Usability and Workflow
Mastercam X8's workflow improvements and crisp graphics are the first things you'll notice. Clearer and more responsive selection, combined with a streamlined look and feel, makes Mastercam easier to use than ever.
Solids Improvements
The Solids interface and workflow have been completely redone for Mastercam X8 and makes constructing and editing Solids easier and more intuitive then it's ever been. See the results of changes made instantly as you work.
Getting a solid model from an outside source can pose unique challenges. You might need to remove fillets, cap an area, modify or even remove features. Mastercam delivers a powerful set of model prep tools that recognize features on history-free solids and let you edit them freely. From "push-pull" editing to splitting solid faces, Mastercam X8 lets you get the part from the designer's desk to your machine fast.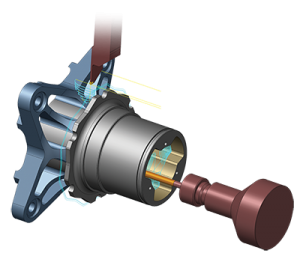 Mill-Turn
Mastercam Mill-Turn delivers more power with full twin-turret support and more, as well as expanded tools including B-axis support for Mill-Turn Level 1 users that don't need surface or 5-axis machining.
Multiaxis Improvements
Improvements to Mastercam's Safety Zone makes defining and editing the safe area much easier.
Tool Inspection has been added to many of the multiaxis toolpaths, including Blade Expert and Port Expert. After you enter an inspection parameter, either in distance or time, the tool will retract and trigger an inspection code at the next linking move.
Multiaxis Roughing is a new strategy and allows for the easy creation of pocketing toolpaths to rough out pockets based on a floor or ceiling shape.
Mastercam Simulator
The Viewport tools are a new feature to both Backplot and Verify that split the graphics window into one of four configurations. The view sectioning tool on the Verify ribbon bar has been expanded to add three additional plane orientations. A new Workpiece tolerance option has been added to the Backplot/Verify Options dialog box to give you the ability to better control the workpiece quality.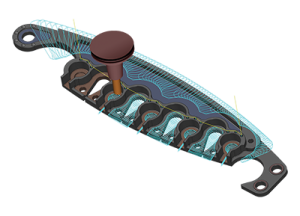 Dynamic Motion Continues to Expand
Mastercam X8 delivers new control mechanisms to make its time-and tool-saving technique even more effective. If you're not familiar with Mastercam's Dynamic Motion technology, take a look. See the back panel for more details.
---
For more information about the entire family of Mastercam CAD/CAM solutions:

Email us, call 1-800-529-5517, or better yet, attend an X8 Rollout!  Find and register for your local event by clicking here now. The last Rollout is October 19, 2014