New features and functions are always being added to OCTOPUZ, our intelligent CAD-to-Path and offline robot programming solution. We love to find exciting ways to test our product, and what better way than to mill an actual octopus model to prove that OCTOPUZ is robust, fast and simple to use!
Milling an OCTOPUZ through the integration of Mastercam and OCTOPUZ level 1 out of walnut with a KUKA KR6 using a spindle with ¼" ball endmill:
From start to finish:

Robotics Applications Engineer and Designer Dave Niewinski designed and built a mesh model of an Octopus and brought it into Mastercam (OCTOPUZ works with your CAM programming software of choice) where programming the cutting paths was very simple.
In-House Solutions does not have a tool changer on our KUKA robot so Niewinski had to program the whole part using only a ball endmill. There was a very course step for the roughing as we were trying to remove as much material as possible. The finishing path had a much finer step and had the tool perpendicular to the surface wherever possible to give a nice surface finish.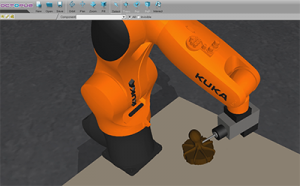 The part, tooling and paths were synched into OCTOPUZ to be simulated. Bringing in the Tool and Base frames from the machine made sure the simulation matched reality. Reference positions in OCTOPUZ made correcting issues in the path very simple. The robot position could be updated across an entire path with a few clicks, and the result viewed instantly. Touching-up some retract positions was necessary as our cell is very small, but again, it only took a few clicks to make everything accurate in OCTOPUZ. Once the path was verified in simulation, the robot code was created and loaded onto the machine.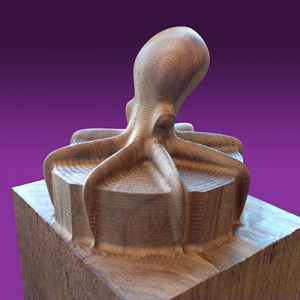 Our octopus was cut at an educational show so we optimized for quality over speed. It took 3.5 hours to mill it out of a block of walnut. "In the end, our octopus was worth the wait" said Niewinski.  "The model came out exactly as anticipated, and with a little sanding it was completely smooth."

Visit our OCTOPUZ Booth with a robot cell in person at IMTS 2014 in Chicago September 8-13 (booth N-6425 North Hall) where we will feature a KUKA KR6 deburring, inspecting and polishing using Mastercam and OCTOPUZ.
For more information on OCTOPUZ or to request a demo, contact Kevin Hesch at In-House Solutions.