In-House Solutions has launched the German version of its OCTOPUZ website, aimed at providing expanded service to customers worldwide. The development of the bilingual site follows in the footsteps of In-House Solutions, Europe GmbH's opening last November — the company's first European location being led by Managing Director Dieter Ottman in Spalt, Germany.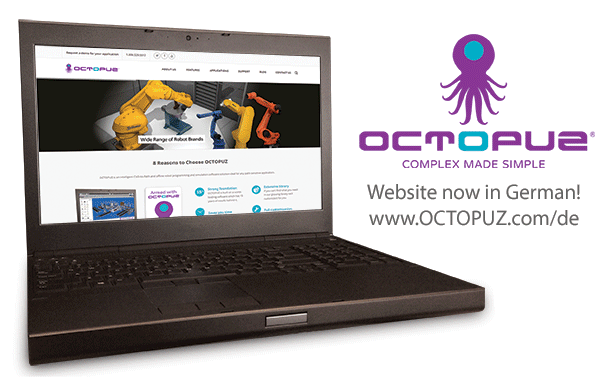 The website provides visitors with a direct link to information about the robotics programming and simulation software, highlighting the company's commitment to after-sale service and support and promoting ongoing customer education through webinars and a listing of industry events. The features section takes a look at the many benefits OCTOPUZ offers, including the ability to program multiple robots simultaneously, full API, complex kinematics systems, application versatility and CAM interface. Visitors will also learn how OCTOPUZ supports a wide range of applications, from edge following and fabrication to material removal, simulation and additive.
"Offering a German version of our OCTOPUZ website allows us to better serve our European customers and support the efforts of our newest office in Spalt," said Dieter, Managing Director at In-House Solutions, Europe GmbH
The use of robots in manufacturing continues to grow internationally with increases of 12 percent annually expected between 2015 and 2017. By the end of 2017, as many as two million robots will be operating in factories around the world. OCTOPUZ is ideal for any industry utilizing robotic manufacturing technologies and offers capabilities not found in other robot programming software options, including full customization and start-to-finish simulation.
The software's slogan is "Complex Made Simple" and that holds true for both first-time visitors and current customers as they navigate the information-packed site. Don't miss the opportunity to sign up to receive OCTOPUZ news, follow the company on social media outlets and stay up-to-date on industry news and the latest product developments.
To visit the German version of OCTOPUZ, visit www.octopuz.com/de or find the language option on the top right of the English OCTOPUZ site. Contact us at [email protected] for more information.