Ask a group of students if they would rather listen to a lecture or work together to construct a mechanical toy, and the answer is obvious. Educators know that hands-on, interactive education is one of the best ways to captivate their students but the tools and resources aren't always available.
Applied CNC STEM Activities Project Books – STEM Education Made Easy!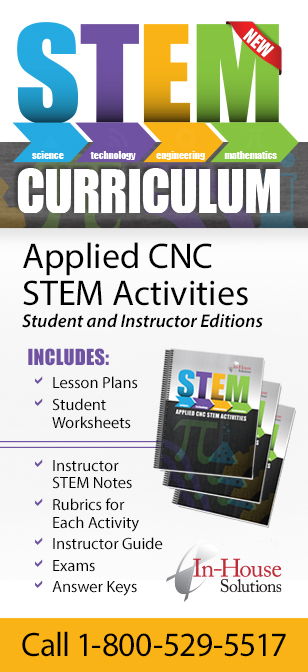 That's why In-House Solutions is excited to announce the launch of their new Applied CNC STEM Activities project books, designed to provide the basic building blocks needed to incorporate STEM into the learning environment.
Putting engaging and relevant STEM curriculum into the hands of educators has never been easier, or more urgent. STEM-related jobs are expected to employ more than 8.65 million people in the U.S. workforce by 2018. This doesn't include those who are self-employed in STEM fields, which raises the number to more than 15.5 million, according to stemconnector.org. In turn, educational institutions are feeling the pressure to keep up with an industry growing at an unprecedented rate.
STEM (Science, Technology, Engineering, Math) curriculum integrates all four subjects using an applied approach based on real-world applications. This interdisciplinary style of education is designed to increase student engagement, interest, and achievement in STEM-related fields.
Though close to 28 percent of high school freshmen say they are interested in a STEM-focused field, more than 50 per cent of those students lose interest by graduation, states the U.S. Department of Education. That's why a new approach to STEM learning had to be developed, one that would interest students throughout their secondary and post-secondary years.
The Applied CNC STEM project- based books are available in both print and electronic forms with editions customized for both students and instructors. Projects, available individually or in combinations, follow guidelines and requirements set by several renowned organizations such as the International Technology and Engineering Educators Association (ITEEA),that align to national standards.
Each Project book has been designed with educators in mind. The material is packaged as a complete, self-contained resource that contains Lesson Plans, Instructor Notes/Guides, Rubrics, Student Worksheets, Tools for Instruction and Exams that all reflect national standards. Projects are tailored to Secondary/Post-Secondary students and range from beginner, intermediate and advanced levels. While a beginner project may take students through the basic steps, a more advanced project will investigate the concepts and principles behind each task, meeting the requirements set by STEM facilitators.
Keeping students engaged was a priority for the developers of the new U.S.-based curriculum. No prior knowledge is needed to dive into activities within the STEM curriculum that include creating a ruler, space shuttle, mechanical toy and much more. Since the activities are Project-Based, they're flexible and can easily be incorporated into any STEM-oriented engineering class. Literacy will be strengthened through research and journal writing components as students will document their learning objectives that have an emphasis on manufacturing (Milling, 3D printing, laser engraving, etc). Both generic and Mastercam versions will be available, which makes the curriculum suited for courses that teach Mastercam applications, and schools that don't use Mastercam in their teachings. Educators will find that the projects are highly effective in bridging the gap between engineering and academic core programs, increasing both academic achievement and an interest in STEM-related careers.
In-House Solutions offered an early unveiling of the new curriculum during the 2014 HTEC Americas CNC Educators Training Conference held at Dunwoody College of Technology in Minneapolis in July. The response was overwhelmingly positive, and attendees were eager to order their own copies of the project books. In November, the books will be launched officially at CareerTech Vision 2014, hosted by the Association for Career & Technical Education (ACTE) in Nashville, TN. In-House Solutions will have the mechanical toy project on display during the four-day conference.
---
The Book Development Team at In-House Solutions has been authoring and publishing industry-leading training solutions for over 15 years. They continue to build on that experience and use customer feedback to improve their products with every release. Their newest product, Applied CNC STEM Activities, is a complete, hands-on, interdisciplinary package that educators can purchase and use at every level of learning.
---
To learn more about STEM Education, email the In-House Solutions education department or call 1-800-529-5517.
Click here for details about ACTE's CareerTech Vision 2014 conference.