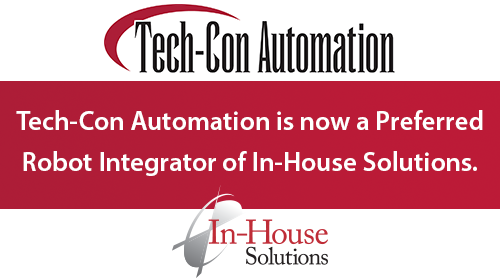 In-House Solutions is pleased to announce that Tech-Con Automation has been added to our network of Preferred Robot Integrators.
Founded in 1995, Tech-Con Automation has been a leading source of robotic material handling solutions for over 20 years, proudly operating out of Burlington, Ontario. They have an experienced team of over 65 employees who work together to accomplish the company's ultimate goal of delivering systems of the highest reliability that improve their customers' production efficiencies and enhance their product quality.
Tech-Con Automation has been enjoying the use of OCTOPUZ for two years now. The software's versatility has enabled them to employ it for programming waterjet applications (with robot waterjet cells being a component of their product offerings), and additionally, for creating simulations of proposed automation systems to be used in the quoting process, allowing their potential customers to receive an accurate view of exactly what their robotic process could look like.
Tech-Con continues to deliver advanced manufacturing process solutions that propel their customers to success while providing the best-in-class customer service and support. As a valued member of the In-House Solutions network, we're excited to continue our successful partnership with this industry leader.
OCTOPUZ combines the offline programming of robots with manufacturing process simulation, providing mainstream, powerful, and effective solutions. It is fully customizable and can cut down on path generation time by 50% or more, allowing users to program and simulate multiple robots simultaneously across a wide range of applications. To learn more about OCTOPUZ or to request a free personalized demo for your application, send an email to [email protected]
---
About Tech-Con Automation
Since 1995, Tech-Con Automation has built a reputation for delivering quality robotic systems and proven integrated solutions. With a commitment to excellent customer service and creative engineering solutions, they are a leading source for pallet-based assembly lines, material handling, waterjet, and industrial automation. Located in Burlington, Ontario, their spacious manufacturing facility offers in-house machining and fabrication, CWB licensed welders, a CSA/UL approved control panel shop, and a system demonstration area for the convenience of their customers. For both new equipment design/build and retrofits to existing equipment, Tech-Con provides end-to-end project management, mechanical and electrical engineering, system integration, and installation at customer facilities throughout North America.
About In-House Solutions
In-House Solutions Inc. was incorporated in 1988 to make powerful software tools accessible for small and medium-sized manufacturers. Today, In-House Solutions serves companies of all sizes in the CNC, Robotics, and Quality Control markets with industry-leading software solutions. The products we represent include Mastercam, OCTOPUZ, CIMCO, and Verisurf.
With offices all throughout Canada, In-House Solutions is a reliable, dedicated, and service-oriented company passionate about helping our customers succeed. We consistently strive to offer full solutions that bring businesses improved efficiency, increased automation, and advanced productivity.