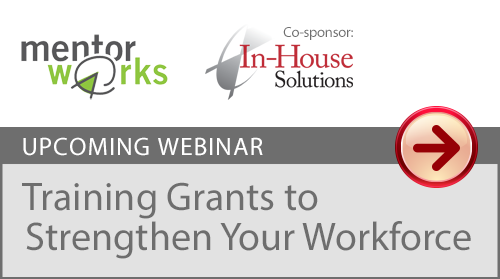 In-House Solutions is excited to be co-sponsoring this webinar with the Canadian Government Funding Experts, Mentor Works.
Thursday, December 4, 2014
11:00am – 11:30am (EST)
[button link="http://bit.ly/1uiQPuK" color="red"]Click here to Register![/button]
Investing in developing your workforce can be a considerable financial burden. Fortunately, Canadian SMEs can receive grants to support their training initiatives. In this webinar, you will learn about how to receive 66.6% of your training costs back per trainee, up to $10,000 in the form of grant funding. Popular training topics include:
Lean Manufacturing/Six Sigma;
Business Systems/Software Training (ie. AutoCAD, Coding, Graphic Design);
Marketing, Business & Leadership Training;
High Skilled Training Programs; and
Post-secondary courses for career and/or skills development (must be 4 months or less).
Improve your cash flow planning and integrate funding into your workforce development initiatives. This program is available until 2020 with $192M allocated to Ontario SMEs annually.
Presenter – Alex Barlow, Business Development Executive
The Canadian Government Funding Experts
Funding resources are available for small businesses from both the provincial and federal levels of government. The challenge is how to find and take advantage of what is out there.
With considerable expertise in government funding, both on a federal and provincial level, she has secured grant funding as well as low interest loans for small-medium size business owners in Southern Ontario.
Mentor Works Ltd. has compiled the best organizational tools and resources to research government funding options to serve small businesses. Through her presentation, she will share her knowledge with you.
---
Have questions about Training Grants to Strengthen Your Workforce Webinar (Canada Job Grant) Co-sponsor In-House Solutions? Contact Mentor Works – Alexandra (Alex) Barlow