What's new in Mastercam X9?
---
WEBINAR #3 – 2D/3D Mill Toolpath Improvements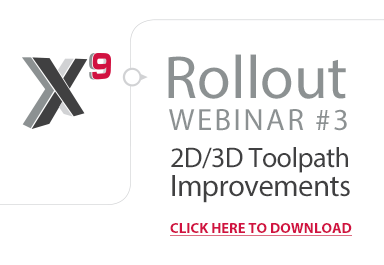 With the release of X9, Mastercam has made some exciting changes to offer you more than ever! This is the third installment of our X9 Rollout Webinar Series, focusing on Mill 2D & 3D.
In approximately 20 minutes, see how X9 has improved toolpath control and programming efficiency.
Highlights include:
Radial Chip Thinning
Dynamic Zig Zag Feed Rate
2D Toolpath Preview
2D Corner Break
3D HST Consolidation
Hybrid Flat Control
Waterline Cut Order
Rest Rough Linking
Tool Contact Point Containment
---
WEBINAR #4 – coming this week!
Stay tuned for more in this series…
---

Presented by Jon House
For more information about X9, call 1-800-529-5517 or email us with questions or comments.
Join the Conversation:
Follow us on Twitter, Facebook or LinkedIn and Subscribe for news & exclusive offers.