What's new in Mastercam X9?
---
WEBINAR #4 – Lathe, Multiaxis, Simulator, Tool Manager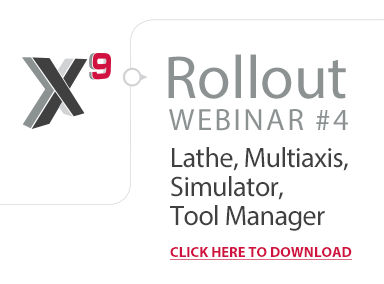 With the release of X9, Mastercam has made some exciting changes to offer you more than ever! This is the fourth and final installment of our X9 Rollout Webinar Series, focusing on Lathe, Multi-axis, the Simulator and the Tool Manager.
In approximately 30 minutes, see how the enhancements made across these modules will optimize your Mastercam experience.
Highlights include:
Lathe Roughing – Shorten Path
Multiaxis Linking
WCS Awareness
Adaptive Quality
Fixture Support
New Tool Type Support
---
---

Presented by Jon House
For more information about X9, call 1-800-529-5517 or email us with questions or comments.
Join the Conversation:
Follow us on Twitter, Facebook or LinkedIn and Subscribe for news & exclusive offers.