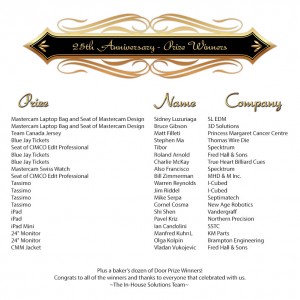 We would like to once again extend our thanks and appreciation to everyone that came out and celebrated with us this past Friday.
Twenty Five years is certainly a milestone – and one  that wouldn't have been possible without our suppliers, business partners and customers.
During our event we raffled off a number of prizes to some lucky winners! Here is the list of prizes and who they were awarded to. (Click to enlarge)
Congratulations to everyone who went home with a prize and thanks again to everyone.
Here are a few photos from the raffle: