This webinar was prerecorded.
Mastercam X8 – Lathe
Fast, Easy, and Precise Turning!
Would you like a better understanding of the new Lathe tools that can help streamline your entire process?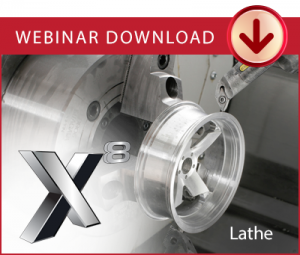 With the recent release of X8, take a moment to learn the new features in the Lathe module, and ensure your shop makes a quick and productive transition to the newest version. Specifically focusing on Lathe, learn why the new features can help reduce air cuts, programming time, and improve cutting strategy.
Highlights include:
Stock Model Support
Contour Roughing Toolpath
Incremental Depth Cuts
Dynamic Roughing
Click here to download this WEBINAR: Mastercam X8 – Lathe
---
Click here to find a list of our upcoming webinars, as well as links to download our past webinars to watch at your convenience. If you have any questions or a webinar topic you would like to see us cover, please contact us today!