---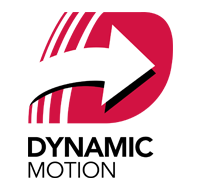 DYNAMIC MOTION TECHNOLOGY IS A GAME CHANGER
Dynamic Motion™ toolpaths maximize material removal rate and can reduce cycle times by 25 to 75%. Dynamic Motion uses a proprietary set of rules to continually adjust toolpath motion to maintain a constant chip thickness everywhere on the part. This results in consistent machining performance, shorter cycle times, and longer tool life.
---
The secret is in the chips.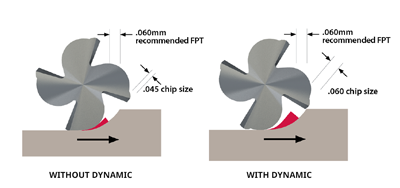 A consistent chip load is crucial to an efficient cut. Mastercam's Dynamic toolpaths calculate the precise peak efficiency of the tool, material, and speed. When you get it right, heat is taken away in the chips, keeping the tool and part cool to the touch. You see it in uniform chip size. You hear it in how the machine runs. You'll appreciate it in dramatically shorter run times, fewer tool replacements, and a much stronger bottom line.
The magic of Dynamic toolpaths is driven by the recommended chip load for the tool, the optimum feed rate, and recommended surface speed.
---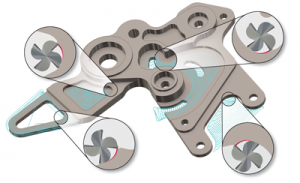 Optimum cutting on any geometry.
Dynamic Motion maintains conditions across the entire cut by calculating optimum feed rate for a given material, tool, and tool diameter. You will see that chip size won't vary. You will hear the difference, too. No chirping, squealing, or chatter. Just fast, consistent, and safe Dynamic Motion.
---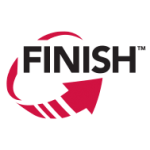 ACCELERATED FINISHING TECHNOLOGY GIVES YOU NEW WAYS TO WORK FASTER
The next leap forward in shorter cycle times.
Mastercam's Accelerated Finishing™ technology, simply called Finish, is the next leap forward in addressing today's innovative profile tools and processes aimed at greater efficiency and higher machining productivity. Collaborating with the industry's smartest tool manufacturers, our software takes full advantage of these new tool designs to dramatically reduce finishing cycle times while actually improving surface finish.
---
Fewer passes. Better surface finish.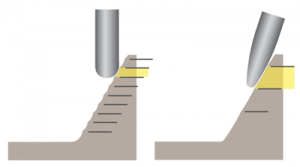 Leveraging new designs in large-radii tool profiles, Mastercam Accelerated Finishing technology maximizes tool contact area. That means fewer passes, flatter cusps, and a better surface finish.
Traditional ball or bullnose endmills require many passes and leave cusps to be finished later (left).
Newly designed finishing tools increase contact area. This means fewer passes and shorter cycle times – with equal or better surface finish (right).
---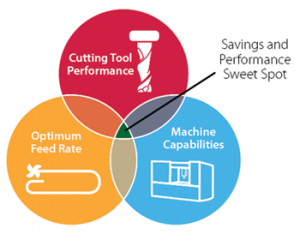 Innovations designed for your business.
Mastercam's Dynamic Motion toolpaths cut roughing times by up to 75%. And now with our exclusive Accelerated Finishing technology, total cycle times are again being dramatically reduced. Maximum machining effectiveness is achieved at the intersection of optimal machine capability, maximum cutting tool performance, and optimized toolpath strategies. Mastercam's Dynamic Motion and Accelerated Finishing technologies provide the toolpath performance needed to reach this goal.
Mastercam is designed to help you consistently hit the savings and performance "sweet spot" of faster run times and less wear on machines and tools.
---
Want to see the story behind five of the biggest benefits Dynamic Motion has to offer? Click on the video links in each of these sections to learn more.
Reduce Cycle Time
Dynamic Motion's material-aware technique can reduce cycle times by 25% to 75%.
Extend Tool Life
Dramatically extended tool life means fewer tool changes, more parts, and less expense.
Reduce Machine Wear
Smooth motion and fewer toolpath reversals mean that your machines take less wear and tear.
Easily Cut Hard Materials
Hard materials pose unique problems – Dynamic Motion makes the tough materials easier.
Use Any Machine
New machines, old machines – Dynamic Motion makes them all perform better.
Dynamic Turning
Minimized air cutting and consistent tool wear boost cycle efficiency and cutter life.
Dynamic Milling
Aggressive cuts, consistent chip load, and superior heat management supercharge your milling.
Request More Info